Gutters are some of the most important external features of any home. They help channel water away from the roof and the foundation of your home to prevent damage, leaks and mold growth.
Alternatively, you can take the DYI route and try to clean your gutters every season. However, doing so is risky and often times ineffective. Our gutter guards can be effective for LIFE – pay once, get peace of mind forever. They come with a lifetime warranty!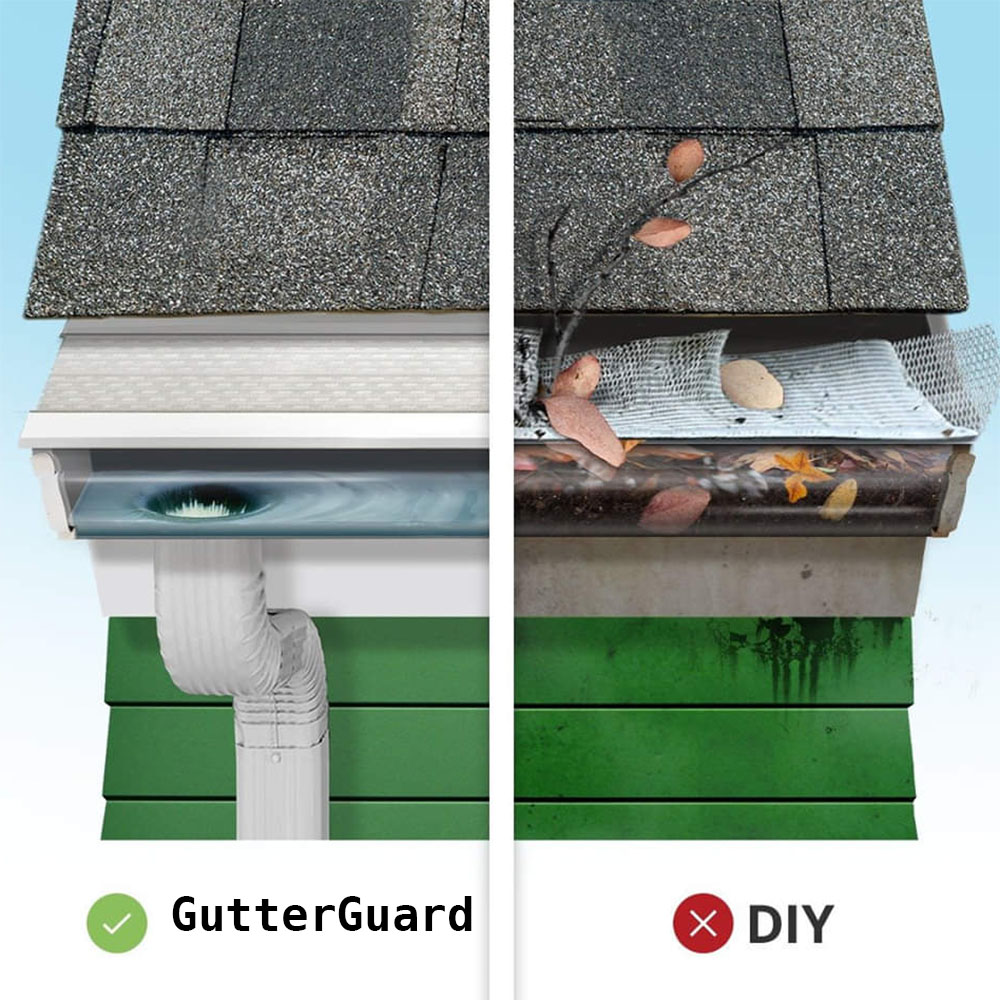 Here is the full truth as to why your home needs gutter guards. A clogged gutter fails to carry water away from your home. Improperly redirected water will run down your walls, pool near your foundation and erode the soil around your home.
Erosion can weaken your walls and lead to cracks in your foundation. Also, when water accumulates near your foundation it can infiltrate your basement. When moisture gets into a basement, it creates a perfect breeding ground for mold to grow into a serious problem.
With a clogged gutter, water that cannot effectively escape your roof can leak into your home. Trapped water can rot soffits and fascia, cause ceiling leaks and create moisture build-up within your walls and underneath your shingles.
To prevent this, you can pay hundreds every year to get them cleaned. Or, you can have a professional team (in less than a day), clean them, and install a solution that stops this problem for a lifetime.
It does not bend or deteriorate because this unique gutter guard frame is made from uPVC material – while the micromesh screen pulls water through and keeps the gunk out. The two are installed together seamlessly on top of your gutters to keep out all types of debris.
To back this up, these gutter guards come with a transferable lifetime warranty. If you sell your home, the warranty is transfered to the new owners. In fact, by getting this one day installation done, you could improve your home's value.
This product is installed at the optimal 11 degree angle to handle as much water as your gutters. Surface tension pulls water through the micromesh screen. This separates debris and water. And, this simple installation helps protect your home and investment.
There's no better time to protect your home and install gutter guards than right this moment. Storms will come and go, leaves will continue to fall, and problems will continue to mount the longer you wait.
Get a fast, accurate quote today for professional gutter guard installation and be better prepared for the weather ahead.